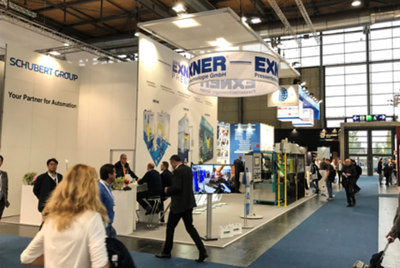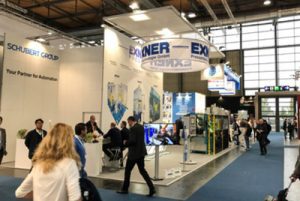 NEW Press automation – everything from one source
This year, we presented ourselves at the EURO BLECH 2018 and introduced our customers to the subject of press automation and automation in general. Furthermore, we have presented our new highlight the PG 4 "four drive axes". We had very interesting and good conversations.
PG 4 "four drive axes"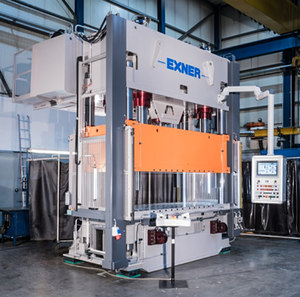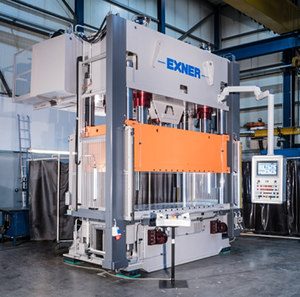 The tool testing press of the "PG" series, known in the expert group, has been extended by another highlight. In order to meet the increasing requirements in the field of progressive dies, EXNER has developed a novel 4-axis synchronized, high-precision tool testing press and realized it on behalf of the customer.
Under the product name PG-4 "four drive axes", the user now has another excellently coordinated tool testing press that meets all requirements in the field of modern tooling technology.
The new tool testing press Type PG-4 has 4 symmetrically arranged hydraulic cylinders, which ensure the synchronization of the slide with the table surface by means of a CNC control.
► High-performance steel shears
► Hot sheating
► Transporting systems
► Conveyor belts automation
► Machine components
► Punches
► Repairs / Retro fits
► Service / Assemblys / UVV tests
► Mechanical machining
► Device construction
► Steel construction
► Spare part service
► Hydraulic C-frame presses
► Double sided – Drawing presses (hydraulic)
► Tool testing presses (hydraulic)
► 4 column presses (hydraulic)
► Hot forging press (hydraulic)
► Double sided – Eccentric-presses (mechanically)
► C-frame – Eccentric-presses (mechanically)
► Roller feeders
► Strip straightening machines
► Decoiler reel
► Recoiler reel